Rolling Thunder Vietnam
Details:
Rolling Thunder Vietnam, written by Bryce Hallett and directed by David Berthold, is a unique and powerful production comprising vastly experienced musicians led by the esteemed musical director Chong Lim. It combines potent and poetic songs of the '60s and '70s, stunning video footage across four screens and truthful storytelling inspired by interviews with Vietnam War veterans and actual letters.

In an era of uncertainty and terrorism, the show about the disruption of war, civil unrest, protest and love, remains resonant and timely. Upon being conscripted, the inquisitive and caring Andy says, "My name had been drawn in the ballot for national service. It was called 'the lottery of death'. I felt sick in the stomach. I don't hate anybody. What has any of this got to do with me?".

The exhilarating production features many of the greatest rock songs ever written and produced, including classics by Steppenwolf, Joe Cocker, Rolling Stones, Creedence Clearwater Revival, Gladys Knight, Billy Thorpe and Paul Simon. The era of the Vietnam War – the world's first televised war – spawned some of the most strident and lyrical songs of the 20th century: Fortunate Son, All Along The Watchtower, The Letter, Magic Carpet Ride, Help Me Make it Through the Night, Born to Be Wild, War, Paint it Black, Killing Me Softly With His Song and Bridge Over Troubled Water.
Location:
Sydney Coliseum Theatre
55 Sherbrooke St, Rooty Hill NSW 2766
Share Event
Share
Rolling Thunder Vietnam

with friends.
What's New
The Ultimate back supports are portable and lightweight to use anywhere Australian Made
more »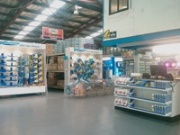 Come and visit Pool & Spa Warehouse Blacktown for Pool Cleaners, Pool Pumps, Chlorinators, and more.
more »
Events Menu:

Blacktown Information
Other Resources