Terra inFirma | 360 VR tour
When:
Every day until Thu 31 Dec 2020
Details:
Explore untold histories and discover works by some of Australia's most exciting artists via Blacktown Arts' first virtual reality tour – Terra inFirma.

From the comfort of your home you can walk through Fozia Zahid's series of miniature paintings, zoom in on the careful detail of Teivao Tamariki's Maori Polynesian painting and sculpture, and circle the painted and stitched Irish linen floor work of Venessa Possum's Murura - Pathways.

Scroll through the names of men who, as listed by Judy Watson, perpetrated and enabled the massacres of Aboriginal people, and inspect the craftsmanship that went into mapping Shivanjani Lal's family history of migration from India to Fiji and Australia.

Your virtual journey continues as you unearth the historical and contemporary livelihoods for many people from the Philippines as captured by Kristone Capistrano, and follow the ancient history of trade depicted by Jumaadi in The Sea of Thorny Fruits.

This interactive and immersive online experience was created alongside digital production company TVD.media to provide unlimited access to the selection of specially curated artworks, detailed descriptions and artist interviews.

Terra inFirma leaves The Leo Kelly Blacktown Arts Centre on 10 July 2020 - go to (https://blacktownarts.com.au/terra-infirma/ to register and see it in person.
Location:
From the comfort of your home.
Share Event
Share
Terra inFirma | 360 VR tour

with friends.
What's New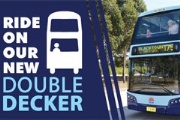 Blacktown, Mount Druitt, Rouse Hill, Seven Hills, Castle Hill, Windsor, Penrith, Richmond and Hawkesbury Valley.
more »
A visit to the museum reveals the European history of the Prospect area, which dates back to 1788.
more »
Events Menu:

Blacktown Information
Other Resources