Expired Event - BYSA Outdoor Cinema - 16 Apr 2021
This is a past event:
Search for New Events »
BYSA Outdoor Cinema
When:
Every day until Sun 18 Apr 2021
Facilities:
Parking Available
Notes:
Event facilities may be modified in wet weather
Details:
From Friday 16th to Sunday 18th April, Blacktown Workers Club will transform into a world of fun for all the family with the ultimate outdoor cinema experience playing a selection of the latest blockbusters.

Not just about what's on the screen, the outdoor cinema will also feature tasty food from local icons BlackBear BBQ, fun live music, kids' entertainment and a graffiti wall art competition with all proceeds from ticket sales going to Blacktown Youth Services Association.

The massive 3-day event is part of NSW Youth Week and will provide vital funding for Blacktown Youth Services Association with all money raised going directly to the charity. Established in 1986 for youths needing guidance and assistance to find their purpose, BYSA runs a multitude of programs focused on skills development, capacity building and social inclusion of young people in the local area.

First up on Friday is family night with 'Scoob!,' the 2020 re-make of old-school favourite, Scooby Doo. With plenty of positive messages about loyalty and friendship, this recent release is not just for the kids featuring some tongue in cheek jokes especially for grown-ups.

Saturday is dedicated to 'Youth Week' where live graffiti art from talented youth artists in the community will kick off from 4.30pm. Come the evening, sit back for 'Wonder Woman 1984' – last year's follow up to the iconic 1970s Hollywood blockbuster about beloved female superhero played by the stunning Israeli actress, Gal Gadot.
Finally, enjoy a giggle to finish the weekend with 2011 American romantic comedy, Crazy Stupid Love, starring a killer cast of Steve Carell, Ryan Gosling, Julianne Moore, Emma Stone, Marisa Tomei, and Kevin Bacon.

Cinemagoers will also be able to enjoy a bite from community legends and kings of the low-and-slow cooked meats, BlackBear BBQ, who will be serving up delicious, hearty feed from their food truck throughout the entire weekend.

After a difficult 2020 leaving them on the brink of bankruptcy, Blacktown Youth Services Association is excited to be hosting its debut Outdoor Cinema Fundraiser to continue empowering local young people to create transformative change in the lives and communities in partnership with Blacktown Workers Club Group (BWCG).

As one of the most successful hospitality organisations in Western Sydney, BWCG is proud to have BYSA as a community partner and to create the BYSA Outdoor Cinema Fundraiser in conjunction with Youth Week.
BWCG President, Kay Kelly, explains "The work BYSA do is critical to our community and so we're proud to be able to offer our support and host this fantastic event to raise the crucial funds BYSA need to keep their doors open."
Other sponsors for the fundraiser include, Paynter Dixon, one of Australia's leading Design and Construction builders who offer expert services in the construction industry.

With limited ticket options available, get in quick to join the "Grass Class", just $20 including popcorn. Or why not pick one of the following upgrades: the "Blanket Crew" featuring a picnic blanket to keep and bonus popcorn ($30 per person) or the premium "Bean Bag Lounge" seating inclusive of picnic pack ($40 per person). For those with kids, "Family Time" includes with two blankets and popcorn to feed four ($80 for two adults and two kids). Kids are 3 to 12 years. Infants aged 2 years and under free.

*Kids aged 3 to 15 years old. Infants aged 2 years and under are free.

To book tickets, please visit: www.workersclub.com.au, Workers Blacktown, 55 Campbell Street, Blacktown or via phone on 02 9830 6000. Tickets strictly limited.


Location:
Workers Blacktown, 55 Campbell Street, Blacktown
Contact:
Alison Brown on
02 9830 6000
Share Event
Share
BYSA Outdoor Cinema

with friends.
What's New
The Ultimate back supports are portable and lightweight to use anywhere Australian Made
more »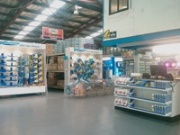 Come and visit Pool & Spa Warehouse Blacktown for Pool Cleaners, Pool Pumps, Chlorinators, and more.
more »
Events Menu:

Blacktown Information
Other Resources